Parma - Rebuilding an Empire - The Intro
The city of Parma is renowned throughout the world for its cuisine, Parma ham and Parmesan cheese have protected designation of origin status and the international Pasta brand 'Barilla' is based there. It was not always this way. Parma once had a team that was the envy of most. A who's who of 90s football, Parma won trophies both in Italy and abroad. Since conquering Europe however, it has not been plain sailing for Parma.
Parma were first promoted to Serie A in 1990, it was the beginning of a meteoric rise that culminated in them lifting the Europa League twice, the European Cup Winners Cup and being a constant threat in the league.
The team was littered with the world's biggest names: Hernan Crespo (their all time top scorer), Gianluigi Buffon, Fabio Cannavaro and Faustino Asprilla to name but a few.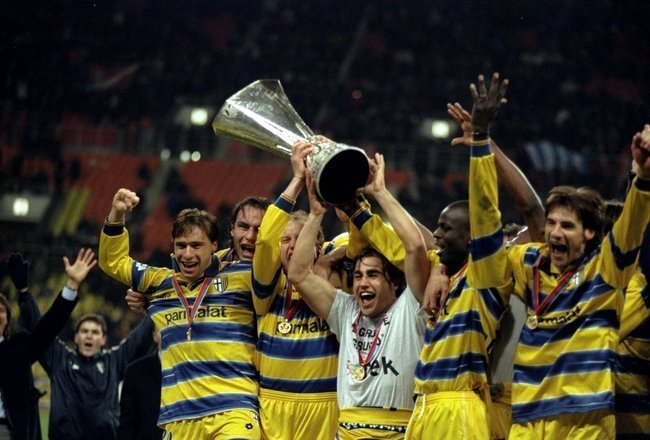 Parma's decline began with the collapse of their owners, local dairy company 'Parmalat'. Forced to sell their star players they were eventually declared insolvent in 2004. This provoked their renaming from Parma AC to Parma FC and they reverted back to their traditional club colours of white shirts with black crosses, as opposed to the yellow with navy blue hoops that they had used during the glory years. The club battled on, yo-yoing between Serie A and Serie B, until for the second time in just over 10 years Parma were declared bankrupt, this time being relegated to Serie D. Promoted last season, Parma now find themselves sitting in Serie C/B, looking to restore their once glorious team.